Bungalows
Accommodation is provided in six comfortable, reed-covered bungalows either overlooking the garden or further into the bush against the backdrop of African sounds with a view over the well-visited waterhole.
The bungalows which were newly built overlook private terraces and are equipped with large, modern bathroom facilities, high quality beds and bedding as well as your own mini-safe.
Energy is provided around-the-clock by our eco-friendly and silent solar plant.
Bungalow
Garden
Our magnificent garden with spacious lawns and shady trees invites you to relax and linger a while. You will find quiet places to read, chat or to simply just relax whether at the poolside or in the "Palaverraum".
Farm Kitchen
At the end of either an exciting and full day or simply a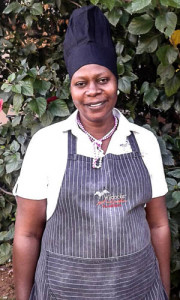 quiet and  relaxing one, we invite you to join us for sundown at the campfire. Following the evening meal will be served in the farmhouse. The long, dining table and familiar atmosphere promise lively conversation with the other guests or you can eavesdrop on stories of nature, the land and its people shared by your host.
Breakfast and lunch are also prepared in the farmhouse. Coffee and cake are served in the afternoon  under the garden arbour.
We serve both international and German-Namibian fare combined with various game from our farm.
We can also accommodate your wishes, happily preparing either vegetarian or lactose-free meals as desired. Simply notify us when booking.
Bar
Our new bar has just opened! Please take a cool beer or a sundowner drink. In the wine cellar you can choose from great south african wines.